Directions to the Ridgway Rifle Club
The Ridgway Rifle Club is located on Grant Rd. about two miles outside the borough of Ridgway, Pennsylvania. Ridgway is the county seat of Elk County, Pennsylvania. Coming from east to west on route 80, take Penfield exit state route 153 North. Then take route 219 North into Ridgway. Rte. 219 will turn right at the first traffic light, you will need to go straight thru the light down Main street. You will go straight thru three more traffic lights. Roughly a mile after the last light there will be a blue sign for the Rifle Club on the left and you will take a right on Grant Rd. The club is 1.75 miles on the left. You will first come to a sign and the dirt road to the High Power Range. If you continue on Grant road 200yds you will see the clubhouse and Smallbore range.
If you are coming in from the west on route 80 take the DuBois route 219 exit and follow 219 North to Ridgway and follow the instructions above.
If you are coming from the North take 219 South into Ridgway. Take a right at the light on to Main Street and follow the directions above.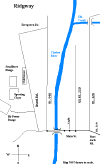 Map to Ridgway Rifle Club
Click on the picture for a larger map.
About Surrounding Area
Ridgway is located on the Allegheny Plateau and is very close to the Allegheny National Forest. In fact, the club lands border this forest.
Ridgway is a small community with densely wooded surroundings. It is an ideal setting for any outdoorsman. Many people enjoy hiking, mountain biking, and hunting in the forests. Others take advantage of the Rails to Trials facility to bike, walk, and job with a nature setting. You can even canoe, kayak, and fish in the Clarion River.